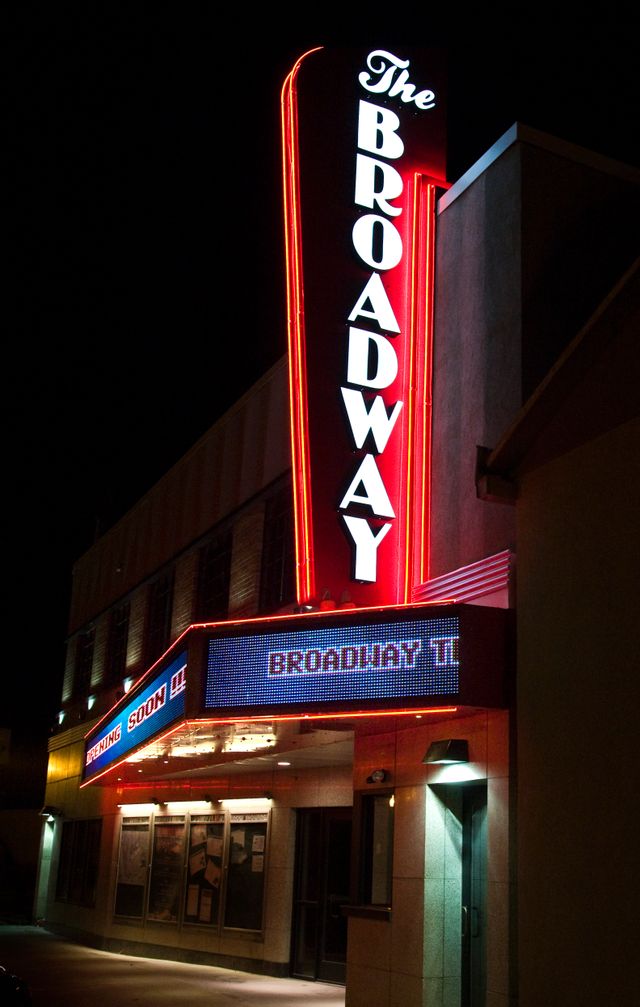 Broadway Theater Rock Springs
Your Local Destination For The Performing Arts And More.
Opening Christmas Day with "There's a Girl in my Heart", the original West Theater was built in 1948; seating 758 people. Soon after opening, other existing theaters closed down making the West Theater the city's premier and only functioning movie theater for nearly 30 years. Eventually, the West Theater was sold and became the Rock Theater and continued to show films. As Rock Springs grew, the business quickly outgrew the location and the business moved to the, then newly built, White Mountain Mall. Unfortunately, after the move, the original location, owned by Victory Fellowship Church, sat vacant for nearly a decade only being occasionally used for storage.
In June 2008, the City of Rock Springs and Urban Renewal Agency purchased the Rock Theater for $90,000 in efforts to restore, maintain, and assist in the economic development of the historic downtown area. Private investments in the sum of $500,000, as well as a $1.7 million investment contributed by the City of Rock Springs and the Wyoming Business Council, made the restoration of the theater, completed in 2011, possible. In a combined effort from a local non-profit organization, Rock Springs Renewal Fund, Inc., private industries, and community members, the theater is once again the gem of Downtown Rock Springs.
The first official season of the Broadway Theater consisted of just five shows hosted by the theater. However, many private shows and events took place in the venue; being used in the early years for weddings, funerals, private parties, fundraising events, and many performing arts productions. Although the theater is still available for rent for private events and parties, the Broadway is now being used for what it was designed for…Theater events! In 2015, the Broadway Theater hosted over 50 events with attendance topping 7,000 people.
The Broadway Theater has had the opportunity to have positive economic impacts on the restoration of the historical downtown area as it has brought residents to the downtown area and increased revenues for surrounding businesses. Today, the Urban Renewal Agency and the City of Rock Springs continue working to maintain and improve the Broadway Theater so that it remains the heartbeat of Down Town Rock Springs and strengthens the economy of the historical downtown area.