The Horizon Theater presents "Ordinary Days"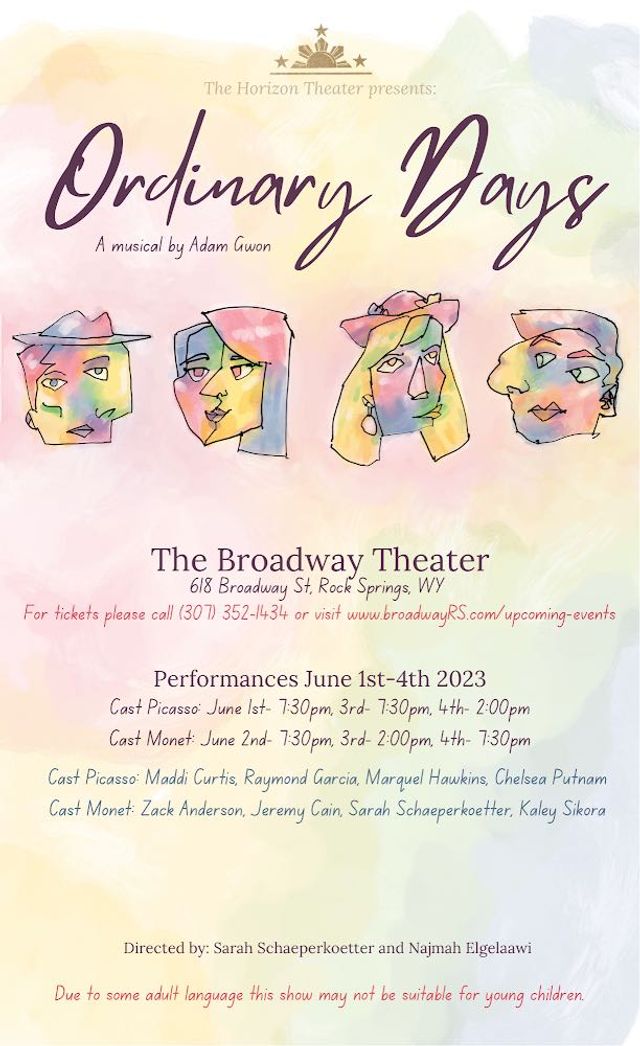 Description
The Horizon Theater Presents:
Ordinary Days
Musical by Adam Gwon
Tickets: $12 adults, $10 kids and seniors
Performances June 1-4
Cast Picasso: June 1st- 7:30pm, 3rd- 7:30pm, 4th- 2:00pm
Cast Monet: June 2nd- 7:30pm, 3rd- 2:00pm, 4th- 7:30pm
Cast Picasso: Maddi Curtis, Raymond Garcia, Marquel Hawkins, Chelsea Putnam
Cast Monet: Zack Anderson, Jeremy Cain, Sarah Schaeperkoetter, Kaley Sikora


Following the lives of four New Yorkers: Warren, Deb, Jason, and Claire; Ordinary Days tells the story of the simple, the mundane, and the beautiful. It tells each of their stories, and how their ordinary lives connect in the most amazing ways. It shows how things aren't always what they seem, and sometimes all we might need is a change of perspective.
*Due to some adult language, this show may not be suitable for young children.
Directed by: Sarah Schaeperkoetter and Najmah Elgelaawi

Accompanied by: Christy Lev

Broadway Theater Rock Springs
618 Broadway, Rock Springs, WY 82901
7:30 PM MDT
to 9:30 PM MDT
Private:No
RSVP Required:No
Accept Registration Online:No
Other Upcoming Instances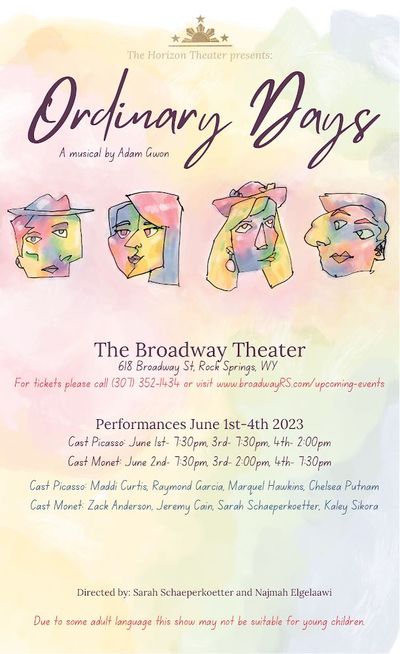 The Horizon Theater presents "Ordinary Days"
618 Broadway
Rock Springs, WY 82901