Special screening of "Who She Is"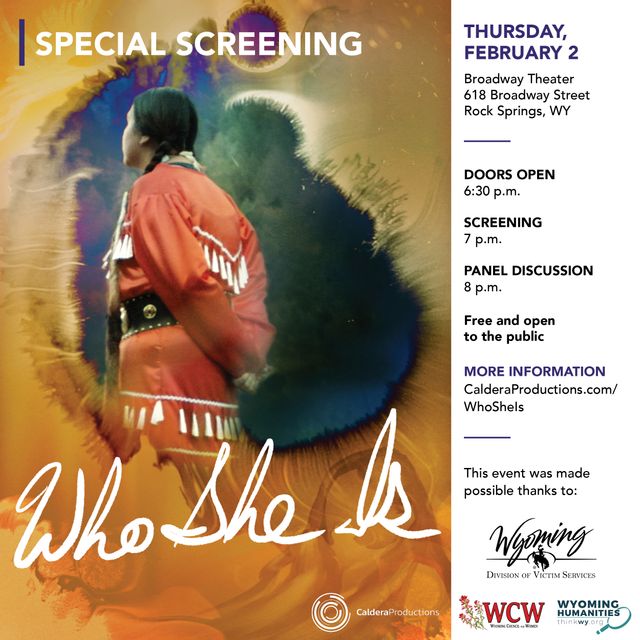 Description
WHO SHE IS - Special Screening Event
Thursday February 2, 2023
Broadway Theater (618 Broadway St, Rock Springs, WY)
Doors: 6:30pm
Screening & Program: 7pm
*Free and open to the public.


Who She Is tells the story of four individual women caught in the Missing and Murdered Indigenous Women (MMIW) epidemic. By bringing these missing women to life on screen, through animation and first-person storytelling, the documentary aims to humanize the people behind the statistics. Audiences will learn each woman's loves and losses and will come to know their story. Through these women, the documentary hopes to shine a light on the wider MMIW epidemic and gendered violence in Wyoming and beyond.

After the film screening join Caldera Productions filmmakers Jordan Dresser and Sophie Barksdale for a discussion about the film, MMIW/P in Wyoming, and importance of empowering Indigenous voices in solutions to combat this epidemic. This screening event is presented by Wyoming Humanities and the Wyoming Council for Women. 


Broadway Theater Rock Springs
618 Broadway, Rock Springs, WY 82901
6:30 PM MST
to 9:00 PM MST
Private:No
RSVP Required:No
Accept Registration Online:No