A Christmas Carol - A New Musical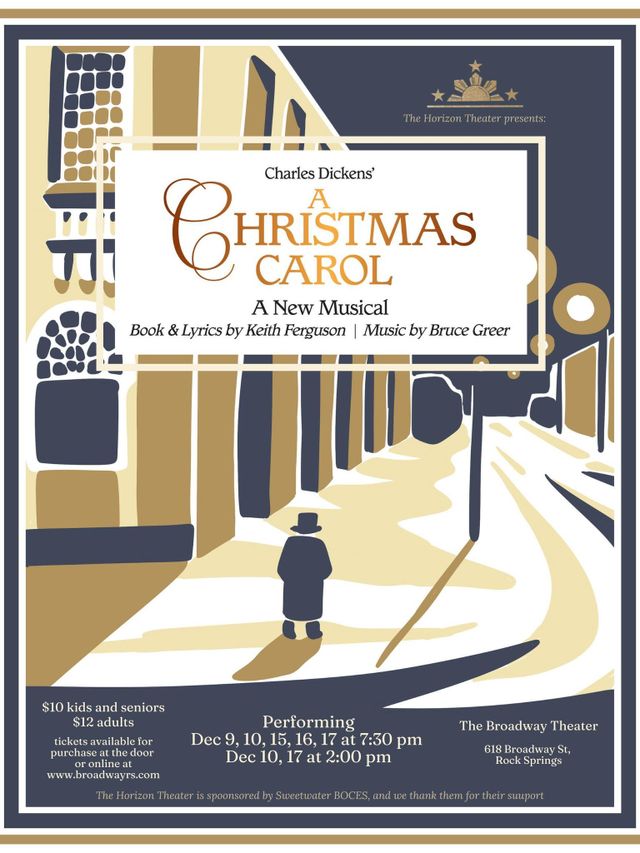 Description
Tickets can be purchased here!

The Horizon Theater is proud to present A Christmas Carol - A New Musical. Coming to the Broadway Theater December 9th, 10th, 16th, 16th, and 17th at 7:30 PM. Matinees on December 10th and 17th at 2:00 PM.

Based on Charles Dickens' novella, A Christmas Carol comes a musical adaptation that brings the story of Scrooge to the stage in A Christmas Carol - A New Musical by Keith Ferguson and Bruce Greer. This musical theater adaptation is faithful to the Charles Dickens' novella and has been performed by professional theaters, community theaters, schools and churches in the United States, Canada and United Kingdom over and again in recent years.
This Christmas classic will bring joy and the Christmas spirit to audiences through integrating some familiar carols and songs.
Broadway Theater Rock Springs
618 Broadway, Rock Springs, WY 82901
7:30 PM MST
to 9:00 PM MST
Private:No
RSVP Required:No