Eric Henry Andersen in concert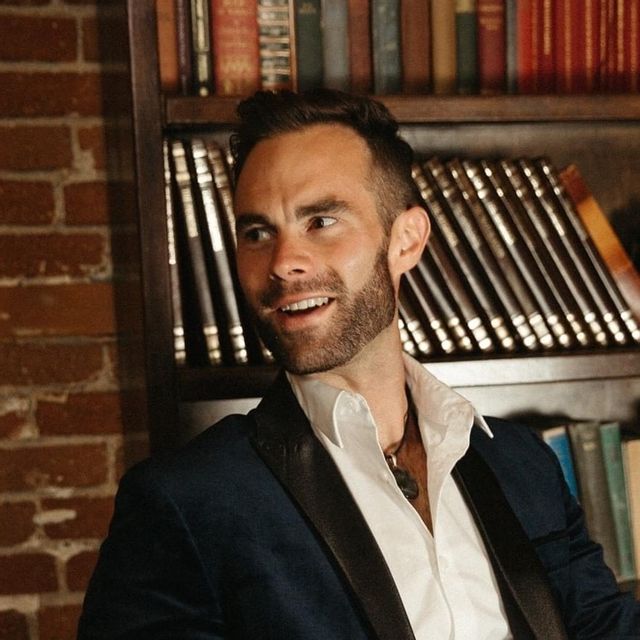 Description
*Sweetwater County Concert Association Members will be given free admission! 
Start off the holiday season with a musical performance by Eric Henry Andersen at the Broadway Theater on November 25, 2022 at 7:00 p.m.  The concert is hosted by the Sweetwater County Concert Association and tickets are available for $10 each at the Rock Springs Main Street/URA office or online at BroadwayRS.com.
Eric Henry Andersen's signature emotive tenor voice and award-winning songwriting has captured the hearts of audiences for over a decade. His live performances invite fans on a music journey, leaving them a little more inspired and connected than before. As a solo artist and co-lead singer/songwriter of pop/rock group, The Novelists, Andersen has toured all over the nation sharing festival bills with and opening for artists such as Train, Five For Fighting, Big Bad Voodoo Daddy, Allen Stone, Glenn Phillips (Toad the Wet Sprocket) and Daryl Stuermer (Genesis/Phil Collins Band).
In February of 2022 Andersen released "Fundamental Force," a four-song EP, largely reflecting on the tenuous state of the world. Such tracks as "Embrace the Fire," "Our True Selves." and "What If It's Not What It Seems" encourage listeners to reject the pull of divisiveness, so ever-present today—and to lean into our shared humanity.
Born and raised in Wisconsin, Andersen began playing the viola at the age of ten. As a member of the Milwaukee Youth Symphony Orchestra he experienced the brilliance of Beethoven, Bach and Grieg first hand, providing a strong foundation for his future songwriting. At 14 he discovered piano rockers, Ben Folds, Billy Joel, and Elton John and his life changed forever. He soon began penning his own songs while incessantly consuming the music of Pink Floyd, Genesis, The Beatles, Kostia, Bruce Hornsby, Dave Mathews and so many others. "During high school I'd spend hours in the choir room playing the piano and ditching class. My friends thought I was crazy. I was obsessed," says Andersen.
In 2008, Eric moved to Reno, NV on a whim to accept a spot on the University of Nevada alpine ski racing team. Andersen's devotion to music, however, soon eclipsed his commitment to ski racing and he decided to pursue a full-time career in music, quickly gaining a loyal following. During this time, he met many of the people who would become life-long friends and musical collaborators. The following year, he joined The Novelists as co-lead singer and songwriter. Over the past decade, his musical career has continued to evolve as a solo artist, member of The Novelists, TV music songwriter and session musician credited on dozens of projects.
Andersen is best known for his catchy, melodic and lyrically driven songs. To quote singer/songwriter Kate Cotter, "Andersen's strong tenor voice is captivating. His grasp of technique, coupled with the nuance of raw emotion, rivals the best I've heard among any artist in the industry." While Andersen's music draws from themes of self-discovery, unwavering faith in the human spirit and overcoming adversity, his deadpan comedic stage presence never fails to draw a laugh from the audience.
When Eric isn't on tour or producing music, he performs regularly throughout the greater Reno/Tahoe area as a solo artist and in various other ensembles, including acoustic duos/trios with singer/songwriters, Joel Ackerson (The Novelists Acoustic Duo/Andersen Ackerson), Whitney Myer, and Kate Cotter. He also performs occasionally with the Daryl Stuermer Band as a guest lead vocalist. In November of 2020, Andersen was appointed to the Reno Arts & Culture Commission, where he is currently serving a three-year term.
Notable Performances:
Sail Across the Sun - hosted by "Train" (with The Novelists)
Battle, Axe & Tracks Music Festival - Eric Henry Andersen Band
TEDx University of Nevada (with The Novelists)
Strawberry Music Festival (with The Novelists)
California Worldfest (with The Novelists)
Dallas Cowboy's Stadium (with The Novelists)
Boerner Botanical Gardens Summer Concert Series (with Daryl Stuermer of Genesis/Phil Collins)
Sounds of Summer Concert Series (with Daryl Stuermer Band)
The Latin Grammy Awards (with Maluma)
The Listening Room Festival (with The Novelists)
Awards:
2018 RGJ - Song of the Year - "With Drawl" - The Novelists
2017 FORTE Award - Best Pop Band - The Novelists
2017 FORTE Nomination - Male Vocalist
2016 Reno News and Review - Best Band - The Novelists
Broadway Theater Rock Springs
618 Broadway, Rock Springs, WY 82901
7:00 PM MST
to 8:30 PM MST
Private:No
RSVP Required:No
Accept Registration Online:No