Shadow Cast showings of The Rocky Horror Picture Show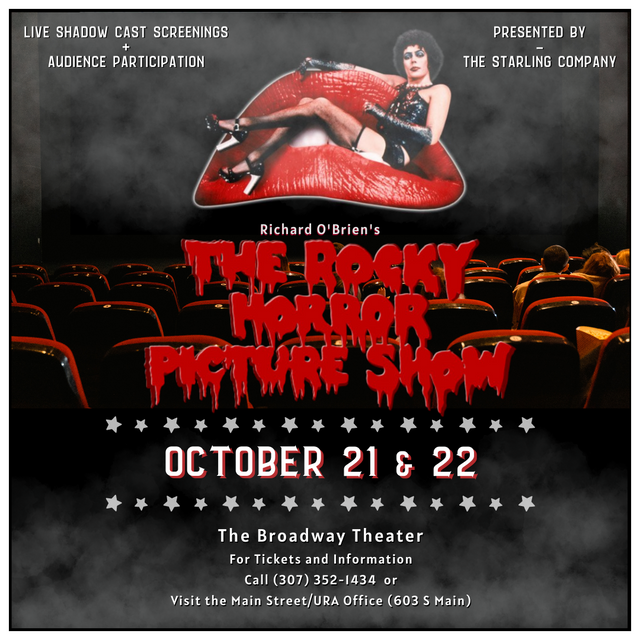 Description
The Starling Company proudly presents shadow cast showings of The Rocky Horror Picture Show!
In this cult-classic, sweethearts Brad and Janet, stuck with a flat tire during a storm, discover the eerie mansion of Dr. Frank N Furter. As their innocence is lost, Brad and Janet meet a houseful of wild characters, including a rocking biker and a creepy butler. Through elaborate dances and rock songs, Frank N Furter unveils his latest creation: a muscular man named "Rocky."
Complete with a costume contest, virgin sacrifice, sass from the audience, cascading toilet paper - and an array of other Audience Participation props, this deliberately kitschy rock 'n' roll sci-fi gothic musical is more fun than ever!
Location:
The Broadway Theatre in Downtown Rock Springs 
(618 Broadway)
Dates/Times:
~ Friday, October 21st at 8:00 PM
~ Friday, October 21st at Midnight
~ Saturday, October 22nd at 8:00 PM
~ Saturday, October 22nd at Midnight
Tickets:
$30 - Squirt Zone
*Lower level seating.
*Includes an Audience Participation Kit and a single raffle entry for tickets to our next show.


$20 - General Admission
*Upper level seating.
*Audience Participation Kit can be bought at the door for $7, while supplies last.
Extras:
Audience Participation Kit - $7
*While supplies last.


Raffle Entry - $5 for 1, or $10 for 3
*Raffle winner includes one free ticket to the next show in our season: Hedwig and the Angry Inch (April 20th - 22nd)
*Multiple winning tickets chosen at each performance.
*Winner will choose performance date they attend.

Come in costume and receive a free commemorative button at the door!

For more info or to purchase, call us at 307-352-1434 or visit the Rock Springs URA office at (603 S Main).
*Cash, Venmo, or Cashapp only event.
Broadway Theater Rock Springs
618 Broadway, Rock Springs, WY 82901
12:00 AM MDT
to 2:30 AM MDT
Private:No
RSVP Required:No
Accept Registration Online:No