Tickets for Kuniko Yamamoto's January 28 performance are now available
---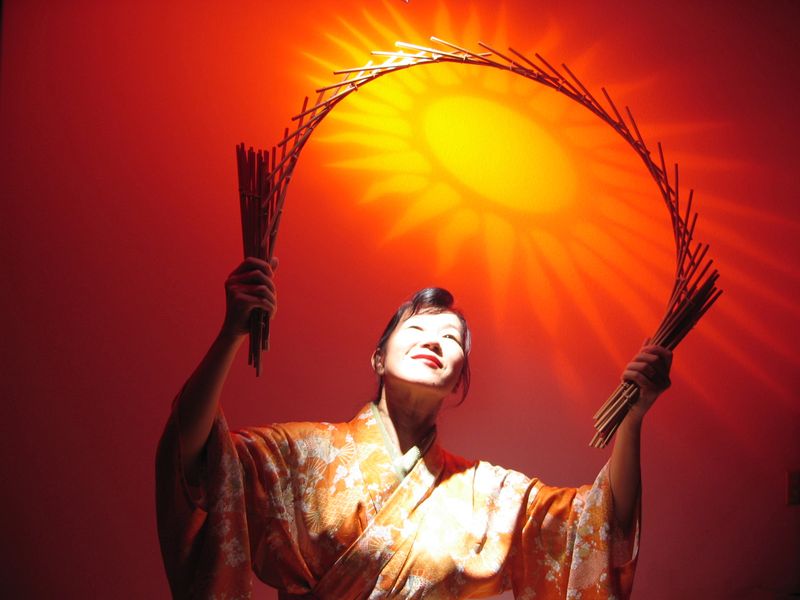 After much anticipation, The Broadway Theater is thrilled to present an exciting and educational cultural performance by Kuniko Yamamoto. This 75 minute show will take place on January 28th, 2022 at 7:00 PM and is suitable for audiences of every age. Tickets are $10 each and may be secured online here or at the Urban Renewal Agency office, 603 S Main Street, beginning December 1st. Beer and wine will be available for purchase once the doors open at 6:00 PM.
This enchanting performance combines Japanese folktales with dramatic storytelling, traditional musical instruments, handcrafted masks, origami, and just a touch of magic to create an artistic balance of illusion and reality. These myths and fables from ancient and modern Japan are spiced with social revelations to educate and amuse all audiences. Interaction and participation will be encouraged, with each narrative carefully selected for their moral perspectives.
"This is a cultural experience unlike any other we've had the opportunity to share with the area," said Maria Mortensen, chairwoman of the Rock Springs Main Street/URA board. "It's a beautiful way to start the New Year."
In addition to the stage show, Kuniko Yamamoto will present a Koto Green Tea Ceremony at 2 pm in the Broadway Theater 2nd floor meeting room. The Koto Green Tea Ceremony is half storytelling and lecture demonstration and half musical performance. Fascinating stories of Zen, Samurai and Tea and how they are connected are shared along with the history and demonstration of the Tea Ceremony. In this experiential presentation each audience member will have a cup of green tea to taste that is special in Japan. The presentation is 30 minutes followed by a question and answer. Due to the intimacy of this presentation, it is limited to 50 people. The Koto Green Tea Ceremony requires a separate ticket and admission for the tea ceremony is $10. (Annual members of the Friends of the Broadway patron program can acquire free tickets for the green tea ceremony by contacting the Rock Springs Main Street/URA office at 307-352-1434.)
For the past 25 years, Kuniko Yamamoto has performed her solo shows in theaters, schools, colleges, and festivals across the country. A native of Japan, she began performing professionally in her hometown of Osaka where she grew up studying traditional dance, music, and theater. After traveling to the US to study with Tony Montanaro, a highly respected mime and actor, she later toured with Leleand Faulkner Light Theater where she helped present lavish stage illusions and brought ancient tales to life with shadows and magic. Kuniko built the Origami Air Art Studio in 2015 as a creative hub, where she currently collaborates with local artists in Sarasota, FL.