Auditions for Pandemic Trilogy: A Live Adaptation by Richard Nelson, directed by Nina Tyler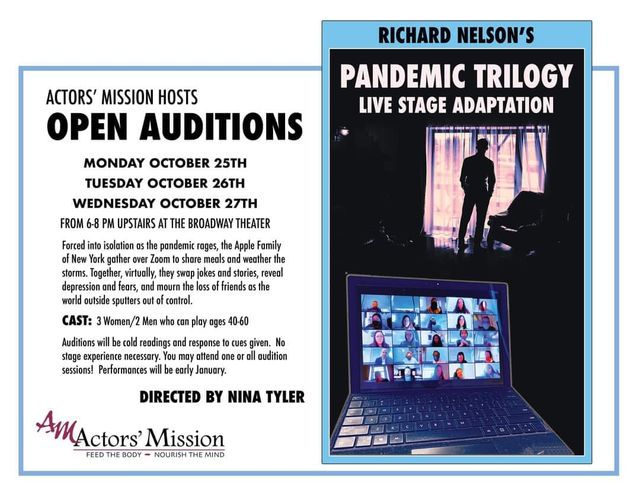 Description
Announcing auditions for our next production Pandemic Trilogy : A Live Stage Adaptation by Richard Nelson, directed by Nina Tyler.
Open cold read auditions will be held October 25th - 27th at 6:00 PM in the upstairs of the Broadway Theater.
Synopsis:
Forced into isolation as the pandemic rages, the Apple family of New York gather over Zoom to share meals and weather the storms. Together, virtually they swap jokes and stories, reveal depression and fears, and mourn the loss of friends as the world outside sputters out of control.
Cast:
3 Women/2 Men who can play ages 40 to 60.
*No stage experience necessary. You may attend one or all audition evenings.
Performances slated for early January.*
Broadway Theater Rock Springs
618 Broadway, Rock Springs, WY 82901
6:00 PM MDT
to 8:00 PM MDT
Private:No
RSVP Required:No
Accept Registration Online:No