Music of a Community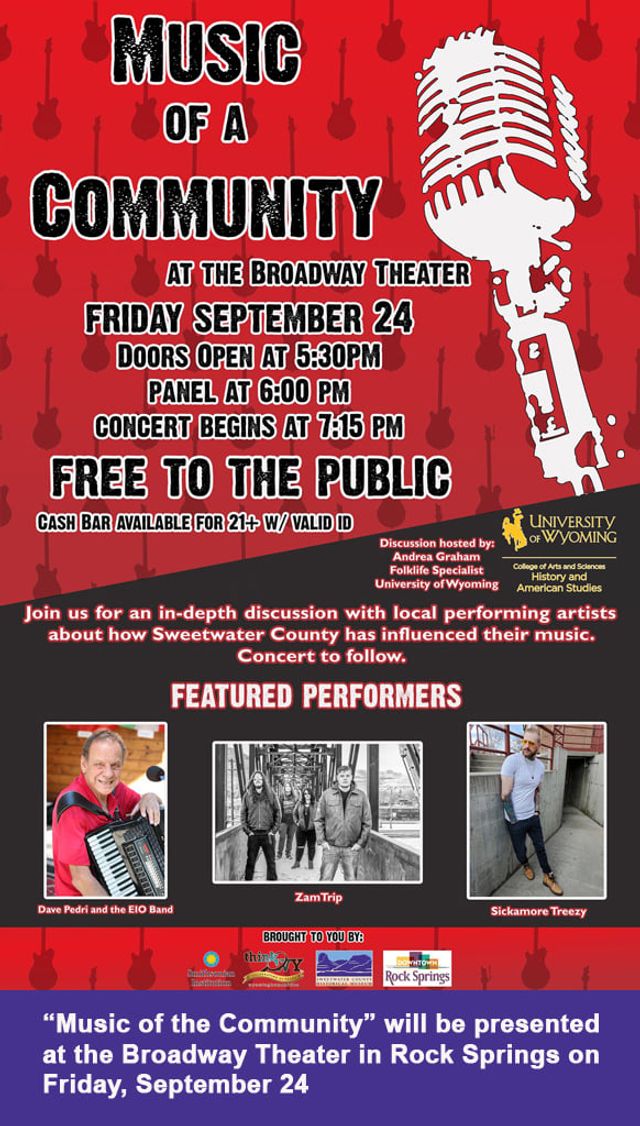 Description
FREE TO THE PUBLIC!
In conjunction with the Smithsonian's Museum of Main Street exhibition, "Crossroads: Change in Rural America," the Sweetwater County Historical Museum invites you to join us for an in-depth discussion with local performing artists about how Sweetwater County has influenced, inspired, and impacted their music. Concert to follow.
Doors open at 5:30 PM.
Cash bar available for people 21 and over with a valid ID.
Featuring:
Dave Pedri and the EIO Band
Sickamore Treezy
ZamTrip
Q&A Discussion Panel Hosted By:
Andrea Graham, Folklore Specialist, University of Wyoming
Event Brought to You By:
Smithsonian Institution
Wyoming Humanities Council
Sweetwater County Historical Museum
Rock Springs Main Street?URA

Broadway Theater Rock Springs
618 Broadway, Rock Springs, WY 82901
7:15 PM MDT
to 9:00 PM MDT
Private:No
RSVP Required:No