Awaken Wyoming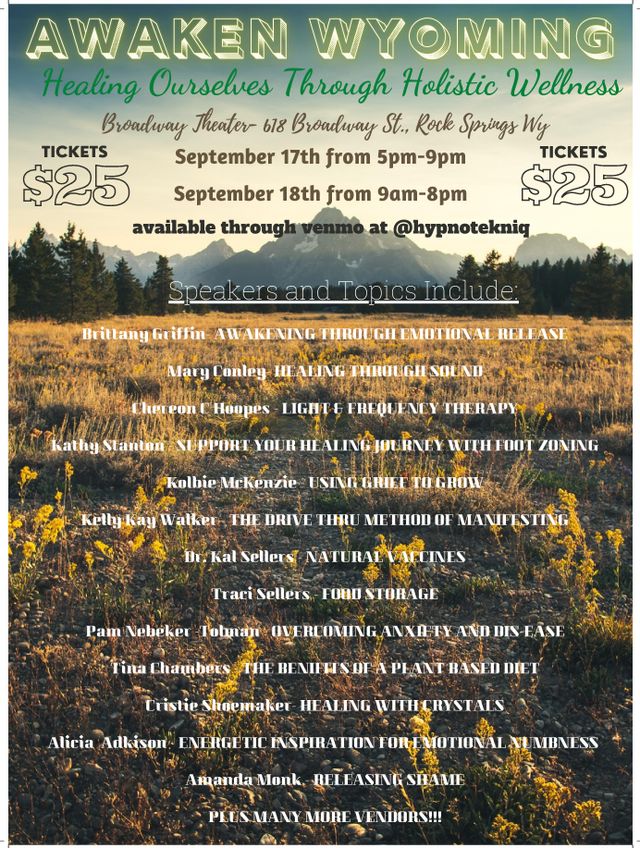 Description
Attendees may select from a variety of practitioners presenting Holistic Wellness disciplines. Preferred vendors will be on hand to offer merchandise and services. Guest speakers will be throughout the day!! Join us for this Amazing experience to come together for a weekend of learning, inspiration, and growth. Redefining Self-Care, Self-Love and Self-Growth one life at a time. We invite vendors to share knowledge about the world of Alternative Holistic Health and Wellness.
Tickets are $25 available through venmo at @hypnotekniq
Speakers and Topics Include:
Brittany Griffin- AWAKENING THROUGH EMOTIONAL RELEASE
Mary Conley- HEALING THROUGH SOUND
Chereon C Hoopes - LIGHT & FREQUENCY THERAPY
Kathy Stanton - SUPPORT YOUR HEALING JOURNEY WITH FOOT ZONING
Kolbie McKenzie - USING GRIEF TO GROW
Kelly Kay Walker - THE DRIVE THRU METHOD OF MANIFESTING
Dr. Kal Sellers - NATURAL VACCINES Traci Sellers - FOOD STORAGE
Pam Nebeker -Tolman - OVERCOMING ANXIETY AND DIS-EASE
Tina Chambers - THE BENIFITS OF A PLANT BASED DIET
Cristie Shoemaker- HEALING WITH CRYSTALS
Alicia Adkison - ENERGETIC INSPIRATION FOR EMOTIONAL NUMBNESS
Amanda Monk - RELEASING SHAME
PLUS MANY MORE VENDORS!!!

Broadway Theater Rock Springs
618 Broadway, Rock Springs, WY 82901
9:00 AM MDT
to 8:00 PM MDT
Private:No
RSVP Required:No